Conventional TV boxes are no longer good enough to help you access every kind of media. Ideally, you'd want to enjoy both online and offline media files. This is where an advanced software like Kodi comes in.
It is a media player created by XBMC Foundation that helps the end user with an interactive user interface. This means that you can easily stream media, games, audio, and other image formats.
To put it in a simpler way, Kodi is primarily an application that is widely used for streaming media. With Kodi, you also get a big library of add-ons to enhance your gaming experience as well.
As a software, Kodi can work with most of the hardware available in the market. One of the best ways to leverage all the benefits of this software is to buy a specific Kodi box.
It's a simple device that will be sitting near your television while streaming almost everything on the screen. These Android TV boxes offer the best way to solve all your streaming problems at once. In the end, you get a much better customer experience that helps you enjoy your content.
There are a number of Kodi-based Android TV boxes available in the market today. Decent technical specifications, powerful GPU, and other complementary features are some of the factors that you should consider when choosing an Android TV box. Let's discuss three of the most popular products to help you figure out the best one.
SCS ETC Android 6.0 TV Box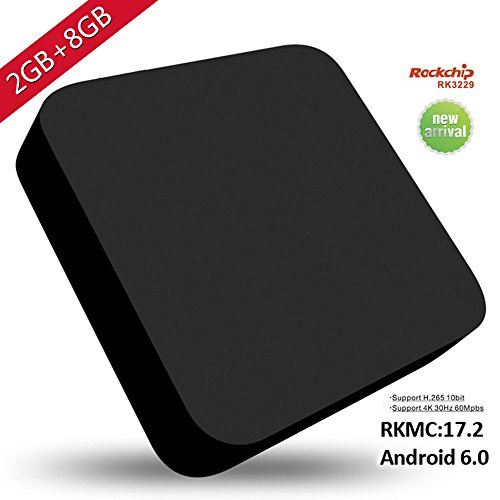 Features
With Android 6.0 and high-performance ARM Mali 400 GPU, there is no chance of any sort of lag
4K Ultra HD display ensures that you don't miss any details
Thousands of streaming apps to leverage the full capability of the box
Full support for XBMC/KODI
Very easy to set up with tons of apps available
Pros
Easy-to-use multi-function remote control
Can handle long, continuous usage for many hours
Extremely easy to set up with fast connectivity all around
Four USB ports to support every kind of external device
Can handle several Android apps without any lag
Good combination of competent hardware and functional software
The device is backlit so it can be used at night
Supports both USB and USB HDD
Cons
Location-based apps are difficult to run
As some Android apps don't play nice with the controller, sometimes the interface gets complex and cluttered
Dansrue V88 2017 Android TV Box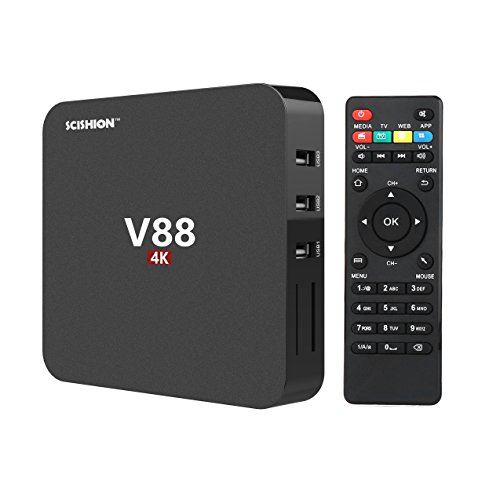 Features
Users can easily play media through local and online sources
Comes with Android 6.0 OS offering thousands of Android applications
Storage can be extended up to 32 GB which allows smooth running of apps
Really fast Wi-Fi signal
Supports 3D movie motivator air mouse and interactive games based on the human body movement
The user interface is smooth and easy to navigate
4k 1080i/p resolution works really well with perfect rendering
Pros
An addictive and easy-to-use remote
The device offers a fair deal for the price
Lots of add-on features and comes fully loaded with apps
Quick and responsive controls
Rich and high-quality picture with minimal buffering time
Extremely easy to set up
A no-nonsense device that works as advertised
The device is fully loaded with all the features
All digital media – local or online – can be played without any problem
Cons
No 5G capability
The processor is fast but not express fast
With too many applications switched on, the device operates a little slow
Omikai R-TV BOX S10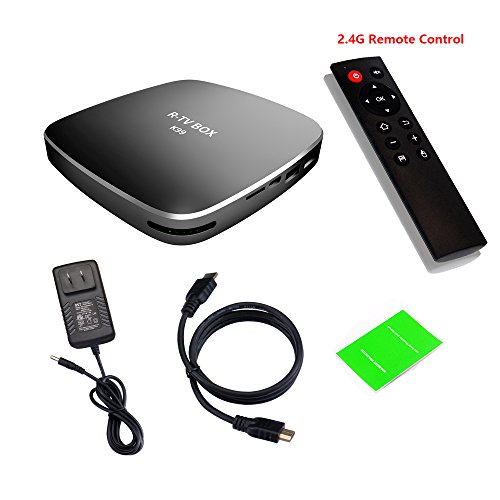 Features
It comes with a 3GB DDR4, a 64GB EMMC Flash, and a storage memory that could be expanded up to 128 GB through a micro SD Card
4k HD is the highest quality that a device can achieve
Superb Bluetooth 4.0 that is faster than its predecessors
It is a small and portable device that weighs less than 230gms
Pros
The video playback is really good
The chosen chipset is fast
The overall hardware is solid
The gaming capabilities are also effective
All media formats – audio, video or images – are well supported
It boots fast every time you initiate the device
The compatibility with Kodi add-ons is superb
Cons
The high-end video codecs have certain unresolved issues
There are times when the high-quality hardware is let down by a sub-optimized firmware
The remote sensor does not work with a lesser range
Summary
These devices are built for the purpose of seamless screening of media. Each of these 3 Android boxes is enabled with relevant Kodi plugins to stream everything on the big screen.
Additionally, an Android TV box also highlights the capabilities of your conventional TV. This means each one of them can elevate your media viewing experience by a long shot.
If you've read so far, you could easily see the differences between the basic parameters of the 3 devices highlighted here. Since all of these devices have their own set of features and benefits, it's difficult to see a lot of differences among them.
However, the key here is to pick the best device that is future proof and comes with the highest level of compatibility with other technologies. Keeping that in mind, there is no doubt that Dansrue V88 offers the best overall experience among these three. T
he size is compact and the box does not use too much space around the TV. The price is not very high and that's why this TV box offers highest ROI. There is a feeling of satisfaction because you're getting a good bang for the buck. Moreover, the video stream buffering time is really short.
In a nutshell, if you're looking to buy an Android TV box in the market today, you would not be disappointed by Dansrue V88. With all the features highlighted here, this is a rather easy recommendation to make.