Android TV boxes are definitely something worth checking out if you want to make your TV more versatile. You can combine traditional TV viewing with the features of the Android OS. This means that apart from watching movies and TV shows you can also surf the web, listen to MP3s, play video games, chat, use social media and stream online videos The Android TV box makes all of this possible.
If you're tired of switching between your PC and TV it might be time to get an Android TV box. Read this review of the Kingbox K3 Android 7.1 TV Box to learn more about this device.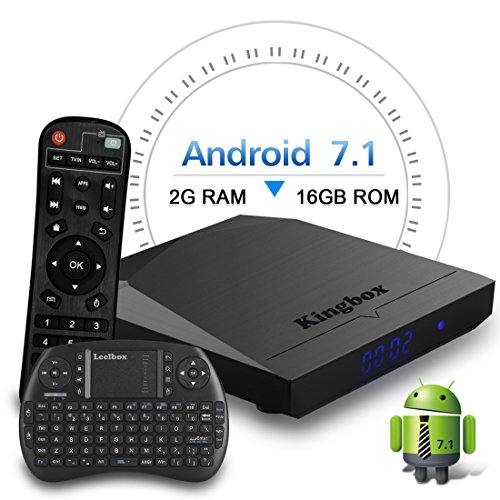 Features of the Kingbox K3 Android 7.1 TV Box
Equipped with Android 7.1 Nougat OS and 16GB EMMC flash
Allows users to play games and view unlimited movies, television shows and musical tracks without buffering and freezing
Comes with quick dual-band Wi-Fi which accommodates 5.0Ghz and 2.4Ghz
H.265 hardware decoding which saves up to 50 percent of bandwidth
Includes mini keyboard
Backed by a 12-month warranty
Package includes TV box, a remote control, wireless mini keyboard, HDMI cable, adapter and instruction manual
Advantages
When it comes to design, the K3 from Kingbox does not disappoint. It has a modern and unfussy design topped with a shiny black finish with sharp edges.
The sides are smooth and organized with all the slots and plugs kept at the rear. It measures less than 5 inches in length and has a width of approximately an inch high.
The unit comes with an 8 core S912 processor which guarantees that users will get smooth and stable navigation and playback of videos. It is paired with the Mali-450 Graphics GPU thus it can handle all sorts of activities from 4K video playback to video games.
It has 2G of RAM which is crucial since it helps when it comes to faster navigation, streaming and loading applications. It also provides enough storage with 16GB of EMMC flash, so users can store lots of apps on the unit.
The unit comes with a high-speed dual band Wi-Fi adapter plus Gigabit Ethernet. This provides users with more options when it comes to internet connectivity and lets you switch the connection type to get the best speed.
In terms of the user interface, it is pretty user-friendly and beginners won't have any problems dealing with it. Beginners can use the setup wizard to make sure that the essentials are set in a proper manner.
You won't have to deal with difficult navigation sub-menus as items are automatically available from the home screen.
The UI is quite responsive and you can switch between screens and applications in an instant, which is a nice feature for beginners. There is also a Help button on the remote. By clicking on this button you will be led to a site that offers assistance for common issues that users often encounter.
The model also includes the Kodi 17 application pre-installed. This lets you start streaming video quickly and beginners won't have to worry about keeping track of well-known Kodi add-ons. There are also other beneficial apps like extra movie and TV streaming services.
The unit performs very well since it is equipped with formidable hardware and excellent software. It will not succumb to lagging and make your Android TV box experience mediocre.
Enjoying your 4K content is made easier and simpler as well—the unit produces high-quality images and can play videos smoothly due to the H265 hardware decoding.
While using Kodi for gaming may mean that not all of the games on the Android app store are augmented for non-screen control panels, there are still lots of games that you can choose from which will suit wireless gamepads. The inclusion of a high-quality graphics processor and 2GB RAM makes playing games a smoother experience.
All in all, this product has an excellent user interface and performs excellently. It includes a keyboard remote, has Kodi pre-installed and is a breeze to set up thanks to the wizard and the remote Help button.
Disadvantages
The Kingbox K3 comes with a standard remote which works fine, but could be improved. Sometimes key presses don't work, which can be annoying. However, you can use a keyboard and touchpad as a remote, which makes navigation easier.
Verdict
The Kingbox K3 Android 7.1 TV Box is a winner when it comes to looks and performance. The features that this unit provides work very well, making it better than similar models. This is a user-friendly unit that is easy to use even for beginners.