Investing your money in an Android TV box is not as easy as it sounds. There are way too many devices and each one of them claims to have the best features. Honestly, it is not difficult to imagine that higher-priced devices will naturally possess more features. However, there is an exception to the rule.
The ESHOWEE Android 6.0 R1 TV Box is one device that delivers power-packed performance without burning a hole in your pocket. You get many simple yet, functional features at your disposal.
The interface has simple, clear, and prominent buttons to navigate apps and is perfect when you're just watching the TV across the hall or lying on your bed.
Practical luxury at a relatively low price. This is literally a plug-and-play device that is also compact and doesn't take up the whole bedside table. This means more than adequate performance at a fair price. A classic example of how a small investment in technology can make your life extremely comfortable.
One of the big pluses for the ESHOWEE Android TV box is the mouth-watering price. If you're looking for a simple TV box to mount on the back of your TV in the bedroom, you will not be disappointed. With no cable dangling behind the TV set, you could watch every bit of multimedia on a ravishing 4K resolution.
ESHOWEE Android TV box is designed to replace the common cable box by streaming high-quality videos without dropping a frame. Moving forward, let's look at certain features that make the ESHOWEE TV box an excellent choice for a serious buyer.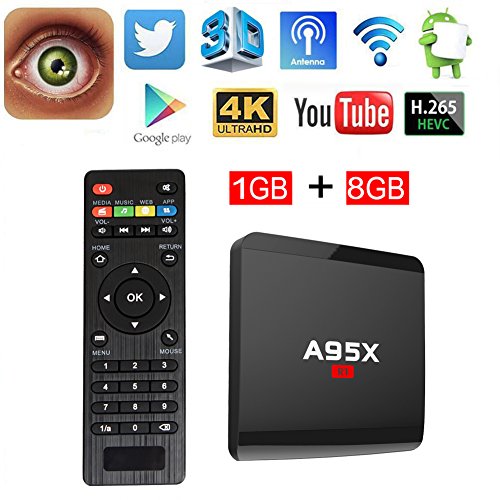 Features
The powerful Android 6.0 operating system allows hundreds of games, software, and other applications
It comes with an RK-3229 Quad CPU that is well known for its speed and advanced image processing abilities
Support for all social networks including Skype, Facebook, Airplay and so on
Offers 4K ultimate HD video, which provides the ultimate experience of a high-definition video output
265 hardware decoding is highly efficient
A rare Android TV box that is known for both commercial and personal home use
Pros
The build quality is really good
It has functional micro SD and USB slots
Amazing quality display with no frame drops
Considering the features on offer, the device is inexpensive
The remote control is functional and the responses are pretty quick
The HDMI cable is thick and designed to take abuse
The device is not too bulky
The box reacts sharply to the commands given from the remote
The CPU is not high-end but it offers lag-free performance
Cons
The navigation between apps is sluggish at times
The build quality is good but not excellent
Summary
ESHOWEE Android 6.0 R1 TV box has an interactive interface and you can arrange the apps according to your preference. You can also download the apps from Google app store. If that's not enough, you can upload the apps through the USB drive as well.
There is a functional browser that is fast and efficient. Sites like Facebook, Youtube, and other social channels work without any lag. Screen quality is also top-notch. You can easily enjoy Netflix, Hulu, or even Amazon prime on your TV.
The ESHOWEE TV box also comes with all the necessary accessories. This means that you get an HDMI cable, a functional remote, and a power adapter. The operating system that comes out of the box is the Android 6.0 with 1GB RAM and 8GB memory. However, a mini keyboard is highly recommended to take care of all the typing needs.
Comparison
4K Android TV box is another device that sits in the same bracket and stands tall among its competitors. It is a plug-and-play TV box that comes with three preloaded launchers.
There are other third-party add-ons that make 4K Android TV box an excellent choice. You also get a dedicated USB port with the enhanced capability of Airplay and Miracast mirroring. There is no doubt that it is a well-made electronic equipment.
However, the presence of too many functions and buttons on the remote control may seem too complicated for some. Keeping the complexity in mind, investing in an air mouse would not be a bad option.
However, given a choice between ESHOWEE R1 TV box and 4K Android TV, ESHOWEE R1 TV box seems to be better value for money.
The build quality is excellent and the box shows really good response to every command. The plug-and-play nature, along with a smooth overall experience, makes ESHOWEE R1 the perfect box in its category.
Verdict
If you need a TV box for enjoying music, games, and your favorite movies, ESHOWEE Android 6.0 R1 TV box is the right choice for all your needs. It is an awesome Android TV box that delivers what it promises.
Honestly, the cable service doesn't seem like a profitable option for the most. An Android TV box is the perfect alternative for people who are looking to stop their cable service after getting tired of the frequent fee hikes. Why pay for channels that you don't even want in the first place?
Investing in ESHOWEE Android 6.0 R1 TV box is a good idea because you get a wide variety of options at your disposal.
If you're looking to use media center PC or love to stream videos from your laptop onto your TV, ESHOWEE TV box is definitely a sensible decision. The price is right and the performance is more than adequate to suit the needs of a moderate user.
It's easy to set up and install and the device picks up Wi-Fi or Ethernet really well. The performance on offer is at par with the competition and you will never regret your decision even for a single second.
There is no doubt that there could be better boxes out there for the extra money, but if you want to save a few bucks and get all that you desire, the ESHOWEE Android 6.0 R1 TV box is the perfect choice for you.