Technology has become an integrated part of consumers' lives and made content consumption easier. Owning a TV can get frustrating since programming won't let users watch what they want, when they want it. While there are a lot of possible workarounds for this particular problem, the best budget Android TV boxes are rising in popularity.
Hence, this best budget Android TV Box roundup will be perfect for those who want good TV box features without breaking the bank.
There are a number of elements that greatly influence an Android TV box's performance, like CPU cores, clock speed, RAM capacity, and storage. All of which will be briefly described and explained below. Furthermore, a TV box can also have a lot of features that will make it easier to use and give you a better viewing experience.
NEXSMART Android 6.0 TV Box
The NEXTSMART Android 6.0 TV Box comes with an inconspicuous design that makes blending with any scenery easier. It has a lot of premium features, but it's ultimately a stripped down version of higher-end models. While it can't party with the big boys, it still provides plenty of functionality to the average consumer.
The NEXTSMART Android 6.0 TV Box features a 2.4GHz WiFi adapter, which is one of the drawbacks. The fact that it doesn't support dual-band 5GHz WiFi makes it stream at lower download speeds. However, that's not a deal breaker since all full-HD 1080p videos will run smoothly if a stable connection is established.
It is fitted out with a 32-bit, 1.5GHz quad-core Cortex A7. The 1.5GHz clock speed is relatively high to run apps and videos at a smooth 60fps rate, giving the user a great viewing and browsing experience. This processor, paired with the Android 6.0 version, allows users to run the latest apps without any hardware issue.
The Penta-Core HD Graphics GPU (graphics processor) isn't that great, but gaming is a very small part of this Android TV box. Thus, evaluating it on gaming performance would be very unfair.
When it comes to connectivity, it fares decently. With one HDMI 2.0 port and four USB 2.0 ports, it will be great for connecting flash drives and peripherals (keyboard and mouse). It also has a card reader slot, optical fiber audio, and an Ethernet connection. The four USB 2.0 ports and the Ethernet cable slot are welcome improvements over other models since it provides the user with a comfortable and fast browsing experience.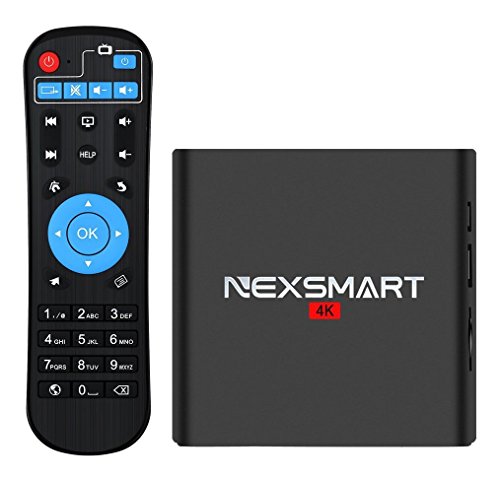 Pros:
Comes with a low-profile design
Has a complete IO
Has an Ethernet port and four USB slots, which is great for having a complete setup and fast transfer speeds
Cons:
Doesn't have a 4K signal
Plays videos up to 1080p
Doesn't have Bluetooth
Tracfy Android 7.1.2 X96 Mini TV Box
The x96 Mini TV Box functions on Android 7.1.2, which, despite not being the latest version, can still run most of the apps in the Google Play Store. That should not be seen as a major drawback as the x96 comes with plenty of features to compensate it.
For instance, the Tracfy Android 7.1.2 TV Box has a 2GB of DDR3 RAM. For the unfamiliar, RAM is a type of storage that is used for frequently CPU-requested files, and 2GB is a lot for a small streaming device. In addition to that, the Amlogic Quad Core ARM Cortex A53 at 2GHz is a beast when it comes to running apps, which can give you a very comfortable and enjoyable streaming experience.
While 16GB of eMMC flash storage isn't that much, since around 4GB is already used by the pre-installed OS and apps, the user can upgrade to 48GB using a 32GB SD card. Hence, storing files and apps will be a breeze!
While it can decode 4K UHD videos, it doesn't stream anything more than 720p, so the manufacturers use some misleading advertising. Even so, viewing 1080p videos is still on the table with other apps, so it's still a nifty little gadget.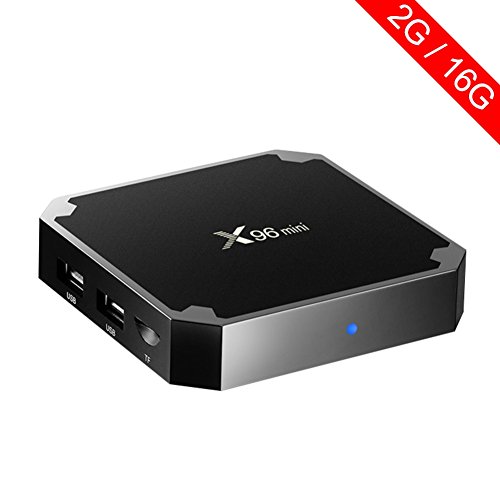 Pros:
Very compact TV box with a nice build quality
Has a microSD slot
Comes with pre-installed essential apps such as Youtube, Netflix, and KD-player
Cons:
The device has a black screen when trying to play some 4K videos
No USB 3.0 port
720p YouTube quality
Leelbox Q2 Pro Android 6.0 TV Box
The Leelbox Q2 Pro is the most fully-equipped device on the list, but it also has the highest price. It's the "premium" best budget Android TV Box entry due to its increased functionality, great overall design, and user-friendly interface.
The first thing that makes it pull ahead of the first two entries is the Bluetooth 4.0 support, something that will undoubtedly come in handy for consumers. It allows the user to connect Bluetooth devices such as a portable speaker, for those who use monitors instead of TVs); headsets, for those who want to keep the noise down; and keyboards, for easier and faster navigation.
It has dual-band WiFi, allowing faster transfers over wireless connections. Inputs and outputs aren't that great since it comes with only two USB 2.0 ports, so connecting a wired keyboard and mouse will be its limit.
The CPU is a last-generation Amlogic S905X Quad Core processor, which is excellent for browsing and streaming 1080p videos but doesn't work well with 4K content. It does feature 4K decoding, but the frame rates aren't ideal. If the user owns a TV that has 4K upscaling, then it's not a big deal, but the signal isn't truly 4K.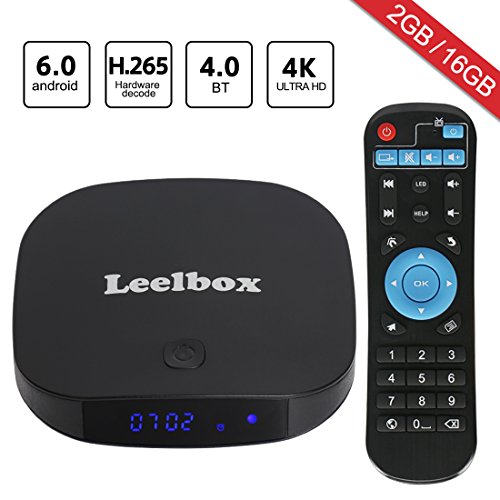 Pros:
Comes with Bluetooth
Has up-to-date input/outputs
Has a powerful processor
Cons:
Only features two USB 2.0 ports
Doesn't feature a USB 3.0 slot
Best Budget Android TV Box: The Verdict
Taking everything into account, the only sensible choice as to which product can be dubbed as the best budget Android TV box is the Leelbox Q2 pro Android 6.0. It comes with full features, like Bluetooth 4.0, a last generation processor and 4K decoding, as well as the standard USBs and other basic features.
Nevertheless, all of the products are great for the right user, as long as buyers know what they get and measure expectations accordingly.