Maybe you have seen an Android TV box at a friend's home or have seen them reviewed or advertised online. These units have caught the attention of many gadget enthusiasts because they offer a brand new way of watching TV.
Whether for browsing online or watching your favorite television shows and movies, this nifty unit will make your home entertainment system even more versatile.
If you're interested in buying an Android TV box, check out this review of the Mini M8S Pro U2C T95N. This model could be the right TV box for you.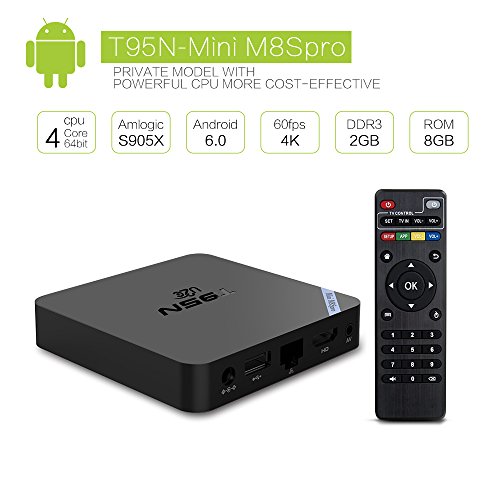 Features of the Mini M8S Pro U2C T95N Android TV Box
8GB ROM and 2GB RAM plus 128GB external memory card capacity
Powerful Amlogic S905X Quad Core Cortex A53 chip for faster, better running speeds and excellent image processing capability
Can accommodate 100M Ethernet for faster opening and downloading of apps
LAN and Wi-Fi 2.4G connection
Remote control and HD cable capability
Supports external wireless 2.4Ghz keyboard and mouse
Reasonably priced
Advantages
The Mini M8S Pro from U2C is an Android TV box that has a more compact size compared to other models being sold in the market right now. It is filled with lots of quality hardware plus it also comes with 2GB of DDR3 RAM and uses an S905 CPU.
This CPU together with the 2 gigs of RAM makes it powerful enough for most purposes. It's enough for streaming and can be upgraded in the future.
This unit is affordable so those who want a cost-effective TV box will want to check this one out. It is also a nice entry-level model for beginners.
It is very small at approximately half the size of many other Android TV boxes. It includes everything needed to set up and operate the unit: the package comes with an HDMI cable, power supply, instruction guide and remote control. The box also comes with 2 USB slots, a slot for the SD card, Ethernet plus HDMI.
Assembling the box doesn't involve any difficult steps since all you have to do is connect the unit to your Wi-Fi connection or connect it through the Ethernet cable. Its interface is similar to that of any regular Android box.
The download speed of 5 Mbps meets the minimum recommended for streaming videos. While you can stream video via Wi-Fi, most people recommend that you use its Ethernet capabilities instead.
Another benefit of the unit is that it has the latest Kodi app installed, 16.1 Jarvis. The unit comes with lots of add-ons installed but most of them are kind of old, so you will want to install newer apps.
Kodi offers lots of add-ons so you can customize it with your favorite add-ons. Furthermore, you can also use other streaming sites like YouTube and Netflix.
Disadvantages
One of the drawbacks of this product is that the Wi-Fi is slow. However, you can get over this issue by using an Ethernet connection instead. Another limitation is that the box does not offer Bluetooth.
Also, this product has quite a small amount of RAM at just 2GB. Even though the hardware on this model operates decently, you might want to upgrade it sooner or later.
Verdict
The Mini M8S Pro U2C T95N Android TV Box has mainly received very positive reviews from happy users when it comes to online streaming. The Wi-Fi is slow, but this can be fixed by just using the Ethernet cable instead.
You have to keep in mind that affordable TV boxes for Android systems may pose some issues since they are mass-manufactured budget setups.
If you can afford to spend more, it's worth buying a more powerful TV box. However, if you want to try out the whole Android TV box thing without spending too much, this model is a good choice. It has decent quality features and comes at a price that budget-conscious folks will approve of.
Android TV boxes are more affordable than smart television sets so having one around at home will not only add versatility to your home entertainment system, it will also help you save money.