It's interesting to see how microtechnology has found its way into so many consumer-level electronics. From smartphones to gaming devices, every new product that features a LED or LCD panel will most likely rely on microprocessors and other parts to process data. TVs are no exception to this observation. In fact, there are currently more alternatives to TV programming than ever before.
Android TV boxes are such an alternative. Android OS is a Linux-based operating system that has been optimized for mobile platforms. Developed partly by Google, company that is currently the official owner of the software, Android has undergone several incarnations, and can now be found in the Android TV version. This system is designed for exclusive TV use, supporting several peripherals, high resolutions and keyboard and mouse inputs.
Android TV boxes are devices that run this OS which are capable of streaming and decoding videos for the consumer's pleasure. The Zoomtak TV Box S912 Octa Core is such a product and will be briefly presented throughout this article.
Zoomtak TV Box S912 Octa Core Features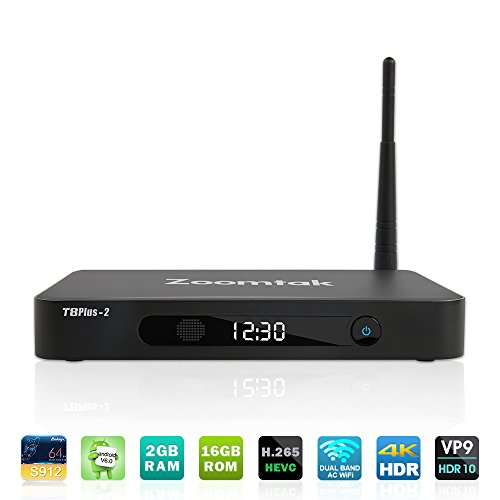 Has a slick, matte black finish, which can seamlessly fit with most sceneries
Comes with Android 6.0 Lollipop
Has Dual-band WiFi support, allowing the user to connect to both 2.4GHz and 5.8GHz networks
Comes with 2GB of DDR3 RAM
Comes with 16GB of eMMC storage capacity
Features a Mali-T820MP3 GPU
Supports Bluetooth 4.0 devices
Pros:
Has a latest-generation mobile processor, the Amlogic S912 Octa Core
Runs at 1.5GHz clock speed
Has the latest generation of GPU making it capable of handling high resolutions and 3D rendering
Comes with 2GB of DDR3
Supports Bluetooth 4.0 devices
Has both analogue and HDMI video and audio connection slots
Supports smartphone broadcasts
Supports Ethernet and 5.8GHz WiFi
Cons:
Doesn't feature newer versions of Android TV
Doesn't run 4K videos smoothly
Summary
This Zoomtak Android TV Box has a very cool design. It's very business looking, in a way, due to its high antenna and all matte black design—the only exception being the front panel that features a LED clock.
The Zoomtak TV Box S912 Octa Core comes with an octa-core S912 processor. Four cores are set to run at a higher clock speed of 1.5GHz, while the other four run at 1.0GHz, making it so powerful but efficient. This makes the processor run at cool temperatures, which is a very good choice, especially since these boxes are usually small and can't fit any active cooling systems.
It features analog and HDMI 2.0 connectors, giving the user plenty of choices with regards to display connectivity. HDMI 2.0 has the ability to transfer data that supports 4K 60fps video playback, but the device itself isn't powerful enough to stream that much. That is because the GPU and CPU bottleneck it. While that's true, 4K TVs usually feature an upscaling feature, increasing the number of pixels in lower resolutions—making them crystal-clear.
The Zoomtak TV Box has 16GB of eMMC storage which can be used for storing apps and temporary files. For anything bigger, it's highly recommended to equip it with a high-capacity SD card, since it can really benefit from one. Also, the user has plenty of apps and content to choose from since it's connected to the Google Play Store wherein games and apps can be downloaded and installed.
The user interface is pretty great, as it's highly readable and bright. It also comes with a lot of pre-installed apps. Likewise, it supports YouTube, Netflix, Kodi, Hulu and virtually anything that can be installed from the Google Play Store.
Furthermore, by using WiFi, a smartphone can be used either to broadcast content via YouTube, Twitch and other streaming apps, or video games since it acts as a joystick. What is better is that the GPU is strong enough to support games like Asphalt 8 at a native 1080p resolution.
Input- or output-wise, it comes relatively well-equipped. In addition to video inputs mentioned earlier, it supports USB 2.0, for either temporary storage via a USB flash drive or keyboard and mouse connectivity. Installing a keyboard and mouse combo can also be done over the Bluetooth 4.0 connection—for wireless devices. Users can even add Bluetooth speakers or headsets, which can minimize the clutter caused by the lingering, out-of-place cables.
Comparison
Since the market is filled with similar products, it might get confusing for customers to differentiate the good from the bad. With that in regard, it's important to compare the Zoomtak TV Box to a similarly-priced product in order to determine where it stands.
The EASYTONE Android 6.0 TV Box is a streaming media player that's similar to the Zoomtak device, both in price and features. It comes with the same version of Android TV (Lollipop 6.0), an inferior Amlogic S950 quad-core processor, and the same amount of RAM and eMMC storage.
However, it lacks several functionality features, such as Bluetooth support and a dual-band WiFi-enabled adapter, that make the Zoomtak streaming player so great. Such also makes the EASYTONE TV box slower at decoding the video signal, which translates into stutter and slower overall frame rates. In addition to this, HD video signals won't be downloaded as fast, since the 2.4GHz connection doesn't provide optimal transfer speeds.
The Zoomtak TV Box comes with better features since it has support for wireless peripherals. It can also provide an overall smoother streaming and browsing experience, making it the superior product.
Verdict
Choosing the right Android TV streaming device can get confusing, but the Zoomtak TV Box is an excellent choice if you do not want to compromise a full-HD viewing experience. While 4K streaming isn't supported, there are very few (and very expensive) products that will manage to do that.
With a powerful CPU and GPU combo, the Zoomtak TV Box provides users with a great streaming experience. It is also capable of light Android gaming, as well as features limitless app support and a friendly user interface. With expandable storage via an SD card, wireless peripheral support, and high transfer rates, it's clearly one of the best video streaming devices that the market has to offer. It's truly a great time to be a consumer!