The entertainment industry has seen a lot of changes over the past few years, with more and more features being packed in smaller packages. That is due to the efficient use of the power of mobile processors. What that being said, consumers can now have access to different types of products that are tailored to certain activities.
Smart TV Boxes are some of the entertainment products that have made a name. They are a great alternative to TV cable due to their potency and affordability. Thus, having a Smart TV Box is great because users can cut ties with TV operators and enjoy a more unfiltered and less controlled media experience.
In addition to video playback and streaming, is also provides access to web browsers and a lot of apps that can really spice things up in the living room.
Android is a very capable operating system. So, owning an Android device that can connect to a TV can bring a lot of different types of entertainment, like browsing Facebook, Twitter and Instagram on a big screen, light video gaming and media consumption in general.
MINIX NEO U9-H + MINIX NEO A3 Features: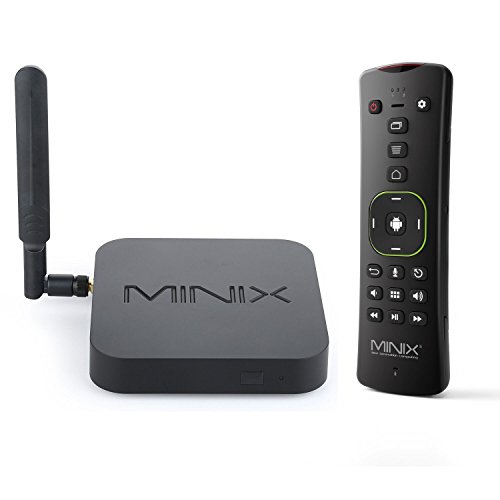 Android 6.0.1 Marshmallow OS
2GB of RAM
64-bit Octa-core processor
16GB of flash storage
Mali-820MP3 GPU
Card reader slot
Dual Band Wi-Fi
HDR (High dynamic range) support
Three USB 2.0 ports
Remote that allows voice search
Pros:
The specs on this Minix NEO Android device are good enough for media consumption
The dual-band Wi-Fi adapter is great for those that own fast 5.0 GHz wireless network connections
2GB of DDR3 RAM is enough to play games with acceptable frame rates
0.1. Marshmallow is enough to support almost every app on the Play Store or on the web
HDMI 2.0 connection
Cons:
No USB 3.0 support
OS can't be updated
Detailed Information
Build Quality
The build quality is decent enough since the device is made using thick plastic with a matte black finish. The overall design looks very sleek and minimalistic. Hence, the device would seamlessly fit into any environment or scenery. However, there are no LED lights to indicate whether or not the Minix NEO is powered on.
IO and Storage
The USB 2.0 ports are useful for connecting external hard drives or other forms of storage, allowing the user to play videos, without any internet connection. However, a USB 3.0 connection would've allowed data transfer to take place much quicker, which is especially useful for 4K videos. Storage-wise, its 16GB internal storage can be used for storing apps, but higher files need to be stored on external drives.
Specs
The 2.0 GHz, octa-core processor, provides enough power to run most apps and video smoothly, without experiencing any stutters or freezes. That, paired with the multicore GPU, allows the Minix to run Full HD videos at a very respectable framerate, ensuring a smooth viewing experience. With 2K and 4K UDH videos that can run smoothly at a rate of 60 frames per second, 4K video playback can also be supported by the device,
Performance
Apps and games can be easily installed through the Google Android Play Store or from the developer's website by downloading the APK file. The processor and 2GB of RAM are plenty to play light games, even 3D titles, and browsing Facebook or the web in general with no issues. As a bonus, the Minix NEO U9-H has support for HDR (high dynamic range) displays, a feature that allows colors to appear more life-like with deeper blacks and more vibrant renderings.
Additionally, the U9-H also has Dolby audio support, offering the best possible sound quality for TVs or audio systems that support this function. That, paired with the 4K video streaming support and the HDR feature, will make for the best viewing experience possible. Additionally, the dual-band WiFi adapter allows the device to run super-fast data transfers with no cables required.
Additional features
A very cool feature that comes with the A3 remote is voice search, which works on every app that supports Google's speech-to-text function. This allows users to input strings of text without having to deal with clunky remote keyboards.
Comparison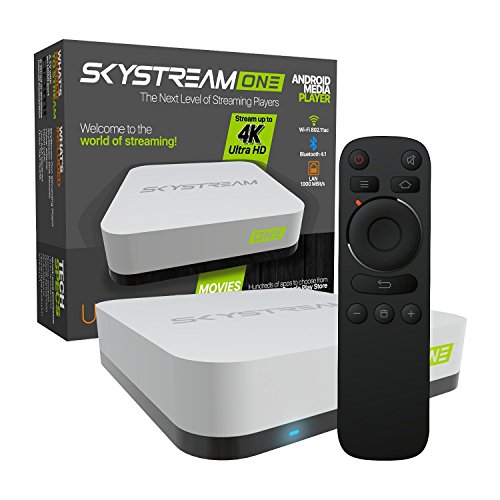 It's certainly a good product, but it's just one of many media players that are currently on the market. When compared to the SkyStream One, the differences are quite small but significant. The SkyStream One, a direct competitor to the Minix Neo U9-H, runs basically the same hardware. The software, which is Android 5.1.1., is a bit inferior.
That means that the Neo U9-H has more compatibility with current apps and is more customizable, which is an essential feature to have. Even better, the voice search function that comes with the A3 remote is a big plus since it removes the need for a third-party keyboard.
The SkyStream One has a black and white color scheme – something that might be hard to integrate with the all-black theme that's currently used in the TV market. Other than that, both devices are solid-streaming machines and both support the same resolutions. Nevertheless, the Neo U9-H is the only one that offers HDR and Dolby sound support.
With that being said, while the SkyStream One does have an extra USB port, which can prove valuable for the right person, the Minix Neo U9-H is by far the better choice. That is because it can provide better quality streaming and viewing experience and easier browsing. Likewise, it has a more customizable operating system.
Verdict
The bottom line is that the Minix Neo U9-H is a complete package. Very few mobile devices can stream 4K video without any signs of stuttering, let alone with HDR and Dolby sound enabled.
All of this is achievable by using a single HDMI 2.0 connection. It has plenty of ports both for storage and utility purposes. Likewise, its simple and minimalistic design will make it fit right in with any sort of entertainment setup.