Technology has come a long way over the past decades and consumers can now enjoy a high number of products that significantly impact their everyday lives. That is with the use of products that are aimed at increasing productivity or offering more enjoyable forms of entertainment.
Buying guides are a great way of getting the necessary information; and throughout this review, those asking "What is the best Android TV box on the market?" will get a definitive answer.
Android TV boxes are a great way of adding features to a TV that would otherwise be limited from a consumer's point of view. Generally, these little devices allow users to have access to services such as online streaming and light video gaming. They're basically Android smartphones that can be connected to a larger screen.
While competitiveness is an unstoppable force that pushes manufacturers towards reaching new heights, consumers can often get confused by the sheer number of similar products. Android TV boxes are no different. So, apart from aesthetics, the features and functionality between different brands will mostly be very similar, at least on paper.
So, let us look at the top three picks that are currently on the market and determine which one is best and why.
SeeTwo Android 6.0 TV Box
SeeTwo is a very versatile manufacturer, from makeup kits and portable mirrors to smartwatches and TV boxes, they offer a wide variety of products and quality customer support services. The Android 6.0 TV Box is one of their hit products and it's easy to see why. It's a pretty complete device that will allow users to have a full Android experience on a high-definition display.
The SeeTwo Android 6.0 TV Box rocks a 2.0 GHz quad-core processor. This is a relatively good thing as it provides a smooth streaming and web-browsing experience. The Android 6.0 is a fairly recent version of the mobile OS, so app compatibility won't be an issue.
The OS and processor combination can take on full-HD video streaming, some light gaming and generally every app that works on a smartphone. It also features an ethernet port, WiFi, two USB 2.0 ports and a card reader slot.
However, when it comes to RAM, it's a bit disappointing because the 1GB of DDR3 RAM is a standard for older mobile devices. Thus, it won't be able to keep up with more sophisticated apps and more resource-intensive tasks such as 4K video streaming, photo editing and multitasking.
On another note, the SeeTwo Android 6.0 TV Box package comes with a mini keyboard (with trackpad), an IR remote control, HDMI cable (for HDMI 1.4) and power adapter.
In short, the device allows users to encode 4K video, but 4K video streaming is out of the question with those specs. This is very important to keep in mind, mainly because the manufacturers placed a "4K" label beneath the logo.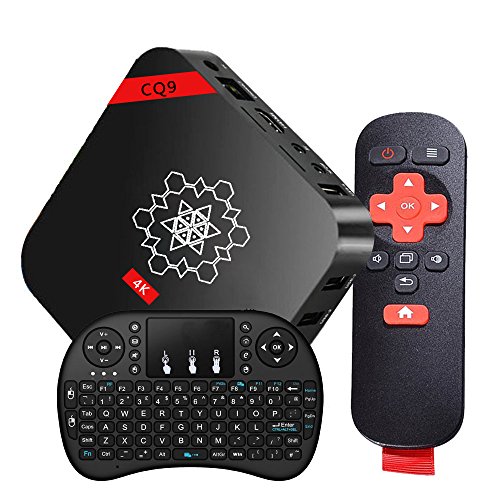 Pros:
2.0 GHz Quad-core processor
Comes with all the necessary cables
Comes with a mini keyboard that has a trackpad
Capable of WiFi and ethernet connections
Cons:
The 1GB of DDR3 RAM isn't enough for more resource-demanding apps
The 4K sticker that's placed beneath the logo is misleading
4K video playback stutters
Zenoplige TX95 Android 6.0 TV Box
Zenoplige is another Asian company, specifically from Malaysia, that is familiar with several markets. They offer several TV Box products, as well as on-ear headphones, so multimedia is their main trade.
The Zenoplige Android TV box is very similar in features to the product that mentioned earlier in this best Android TV box on the market buyer's guide. In fact, they both use the same 2.0 GHz quad-core processor. Memory-wise, it's also the same, which is 1GB of DDR3 RAM.
That is more than enough for video streaming, light gaming (provided the user has a joystick that's compatible with the device) and light apps, like Facebook, retail apps and anything down these lines. Also, 4K video is readable because the devices come equipped with UHD codecs, but streaming is, again, not possible.
As a plus, its appearance is more living-room friendly and the remote does offer more utility. While the remote is better than what we've seen so far, it doesn't come with a keyboard.
Likewise, the cursor must be used with the remote's arrow keys, which is not ideal. Nevertheless, the IO features two USB 2.0 ports, an HDMI 1.4 connection, a TF card port and an Ethernet port.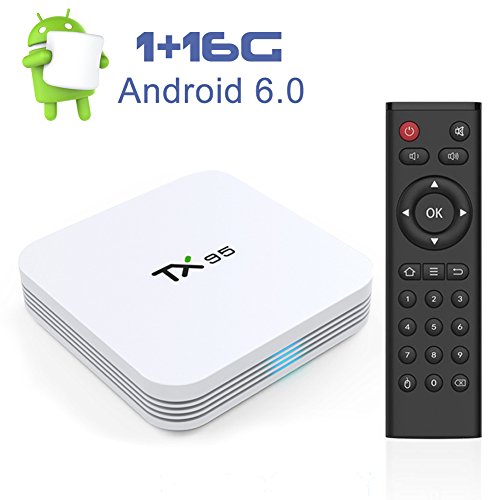 Pros:
Cleaner looking design
More functionality with the IR remote
Supports 4K video encoding
Cons:
Doesn't come with a keyboard
1GB of RAM is somewhat restrictive
4K video playback stutters
EASYTONE Android 6.0 Smart TV BOX
EasyTone is a brand that focuses only on manufacturing TV Boxes and TV Box accessories – a name that has a very good track record. This Android 6.0 Smart TV Box is a bit different from what has been featured so far.
For starters, the design is undoubtedly a step up with a nice glossy finish on the plastic. It also has bright LED lights making it a bit flashier without lacking taste.
While the processor is the same, the other features are considerably upgraded. It features dual-channel WiFi, supporting both 2.4 and 5.0 GHz connections, for faster streaming and data transfers. With a 2GB of DDR3 RAM, the product allows a smooth performance from higher resolution videos to video games.
It features Bluetooth, HDMI 2.0, USB 2.0 and a card reader. Additionally, it comes with a handy mini keyboard that features a trackpad, as well as a 60-day money back guarantee and a 12-month warranty.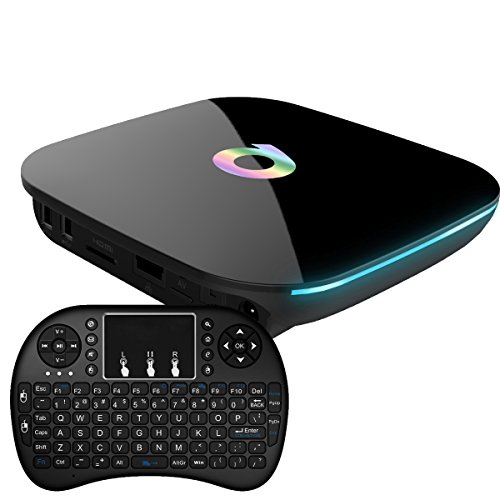 Pros:
Beautiful design
Comes with both 2.4 and 5.0 GHz WiFi support
2GB of DDR3 RAM
Bluetooth connection
12-month warranty
Cons:
4K video playback stutters
Android version might be 5.1.1 in some cases
Best Android TV Box on the Market: Which One Takes the Cake
While all of the products are relatively similar in features, the EasyTone Android 6.0 Smart TV Box is the apparent winner of this roundup.
The additional RAM and the 5.0 GHz WiFi support allow for a better experience due to the quick connection and the better performance it offers in various tasks. All in all, they're all great at what they do, provided that the buyer is aware of their limitations.