Modern technology has definitely changed our lives. TV sets, for one, have followed the latest trends and are now called Smart TVs; however, they can be very heavy on one's budget. The good thing is that Google, together with Android, has developed an operating system, called Android TV that aims to change that. Hence, the best Android TV box on the market will be a big upgrade for any TV.
Android TV boxes are devices that, when plugged into a standard TV, offer it a lot of "smart" functionalities, like app support, WiFi connectivity and access to more content in general. The question is, "What makes a product the best of its kind?" Well, with TV boxes, there are a lot of influencing factors.
RAM, CPU cores and clock speeds, integrated storage and GPU (graphics processing unit) are all parts that work together towards giving users a Smart TV experience. Such make it difficult for you to choose the right product for your home. Thus, let us have a quick look at some of the best Android TV box on the market to help narrow down your search.
Tblaze Android TV Box Amlogic S912 64-Bit Octa-Core CPU
Tblaze is one of those manufacturers that specialize in one thing—TV Boxes. This is great since customers will get a reliable and well-designed product that is produced by people with market knowledge and field experience.
This product features an Amlogic S912 CPU and has an octa-core (eight computing units) processing unit. Such allows it to perform better in multi-tasking assignments than an average dual- or quad-core processor.
The GPU (graphics processor) is the main improvement over the previous S905 processors. It scores higher in 3D tasks, making it a good choice for light video games and a real HD viewing experience, with great support for high resolutions.
The device itself is pretty industrial looking—having an appearance that's more close to a router than to a TV box. The package can be bought in several variants, with or without a backlit keyboard. The remote comes at a standard in every package, but having a keyboard will surely improve the user's experience as it makes navigating the apps easier.
Speaking of apps, it runs Android version 7.1.1, also known as Nougat, one of the most recent versions. This OS supports all of the latest apps and is somewhat future-proof, so support will be guaranteed for at least a few years. Users will be able to run Netflix, YouTube, Amazon, Hulu and virtually any Android streaming service for a seamless and smooth viewing experience.
The user can expand the product's storage via an SD card and USB 2.0 support. While the SD card allows the user to store additional apps, the USB drive can only be used to play videos. It also has 2GB of RAM, which is plenty for trivial tasks, as well as support for dual-band 2.4GHz and 5GHz wireless.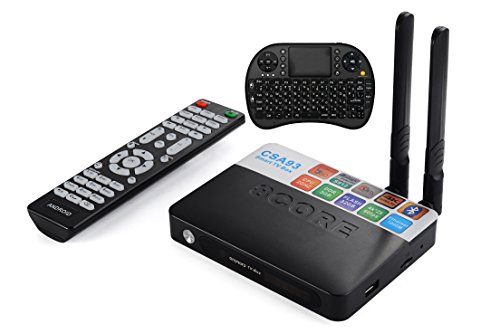 Pros:
Has a top-of-the-line CPU and GPU combo
Features 2GB internal memory
Great support for high-resolution and 3D content
Has an updated version of Android TV
Cons:
Doesn't have support for Ethernet
The keyboard doesn't come in the standard package.
Bqeel M9C Max Android 6.0 Marshmallow Amlogic S905X Chipset
The Bqeel M9C max is the second choice for this best Android TV box on the market list due to its user-friendly design and interface—complemented by its somewhat recent feature set. To be blunt, the M9C isn't a top-shelf TV box, but it's functional and reliable.
While Marshmallow is a pretty dated Android OS version, it still supports the most popular streaming apps. Moreover, the factory version comes with pre-installed apps and a very friendly UI, making it easy for consumers to navigate and improve the system and settings.
The Amlogic S905X CPU is also a pretty dated piece of hardware since the S912 has proven to be superior in both power consumption and multi-tasking. While this is true, the S905X is still a great choice for video streaming.
It also features 16GB of eMMC storage, something that's placed between an HDD and an SSD when it comes to writing and reading speeds. It's mostly used in SD cards and USB sticks, but it works great on mobile devices as well. The IO features USB 2.0 support, which is great for using a mouse and keyboard for better navigation, or for using a USB flash drive for streaming data faster. It also has support for HDMI and SD storage.
Pros:
Easy to use
Well-balanced IO
Great for more budget displays
Cons:
Doesn't support true 4K, although it's advertised on the box
Firmware and software is somewhat outdated
Android TV Box T95Z Plus
The Android T95Z TV Box can be considered as the most complete product on this list. It's a bit more expensive than the other two, but it brings more value to the user. Right off the bat, it supports Bluetooth, so connecting a wireless keyboard or a better remote is achievable without dongles or wires.
It features the same processor as the first entry, the Amlogic S912, so it basically runs the same clock speed with a very comparable performance. On top of that, it features 2GB of RAM and 16GB of eMMC storage, also similar to what we've seen so far. It runs on Android 6.0 Nougat, a somewhat useful but out-of-date OS.
The real improvements come with the design and the features. It comes with a LED ring which is responsible for lighting up all of the ports. Hence, allowing the user to connect peripherals in the dark. On top of that, having Bluetooth is a game changer. It supports wireless keyboards, mice, and headsets.
This product can run full HD and upscale videos to 4K, but it won't output a true 4K signal since these mobile hardware components don't pack enough of a punch.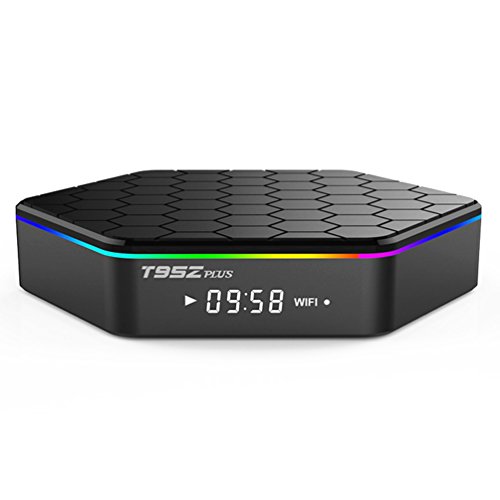 Pros:
Have complete features
Is slightly superior to others
Comes with a LED ring that illuminates all of the ports
Runs both 2.4GHz and 5GHz networks, as well as Bluetooth and IR
Cons:
Doesn't output true 4K signals
Best Android TV Box on the Market: The Verdict
Out of these three picks, the best Android TV box on the market has to be the Android TV Box T95Z Plus. It offers users a complete TV box experience, with zero compromises when it comes to functionality. While it doesn't output a true 4K signal, very few products do since the existing technology is still new and in development. It's a great-value pick, with full and helpful features and a great design.