Do you wish to buy the latest smart TV in the market but you don't have enough money? Are you ready to get rid of your perfectly functioning television? So, what's the solution?
Turn your ordinary TV into an extraordinary entertainment powerhouse with the best 4K Android TV box .
An Android TV box might just the solution you are looking for. It transforms any TV into a fully functional smart TV that gives you access to television shows, movies, online videos, YouTube, live sports, applications, and games. Not only that, but smart TVs also allow you to play music and browse the Internet.
Sounds great, right? However, with so many 4K Android TV boxes in the market today, you might get overwhelmed with the different choices. If you are not careful, you might end up buying the wrong one.
Thankfully, you don't have to waste too much time, energy, and even money just to find the perfect Android TV box for you. In this article, let us share with you the three of the best 4K Android TV boxes you will surely love.
DOLAMEE D5
Watch high-definition movies at home and enjoy bonding time with your family with DOLAMEE D5. There are a lot of features that make this product an excellent choice.
This Android TV Box weighs only 9.6 ounces and has a package dimension of 7.4 x 5 x 1.8 inches. It comes with everything that you need. The package includes a remote control, and the device has two USB ports, HDMI, LAN, and TF port.
Once you received your DOLAMEE D5, all you need to do is plug it into your TV, run through some of the initial setup options, connect to WiFi, sign in to your Google account, and you are ready to go.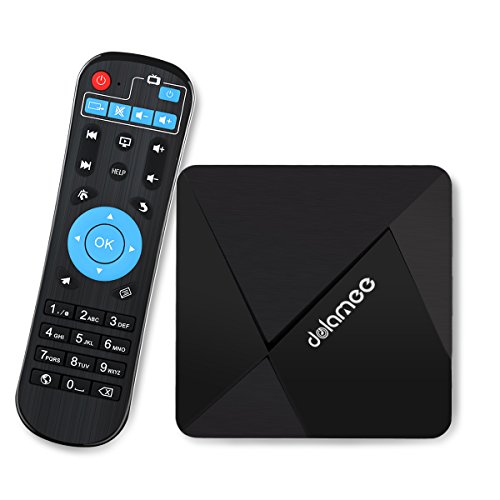 Pros
Lighting running speed (2GB of RAM and 8GM of ROM)
4K resolution
265 decoding
Run by the latest Android version (Android 6.0 OS)
Quick set up and easy to operate
Cons
Needs a little exploring for first time Android users
Though it's already fast, the speed can still be improved
Bomix TV Box
Your TV will never be the same again with Bomix TV Box. It allows you to watch live video streams and use the internet to download games, apps, movies, music, and a lot more. With Bomix TV Box, you don't have to pay for your cable connection anymore.
This product opens up a lot of entertainment potential. For one, it comes with a lot of impressive features. It is super lightweight and measures 94 mm in length and 17 mm in height. You can actually hold it in the palm of your hand.
In addition, you can quickly connect to the Internet with 2.4G WiFi connectivity. Once a connection is established, you can surf the web, watch your favorite shows, and get in touch with your friends using social media apps.
You will also love the quality of its video due to the fact that the display boasts 4K video quality. Whether you are watching TV or playing games, you will absolutely love the crisp and sharp graphics of your screen.
Powered by Android 6.0 OS and the latest quad-core Cortex A7 1.5 GHz 32-bit chipset, Bomix TV Box lets you seamlessly browse the Internet and watch TV shows without any lag.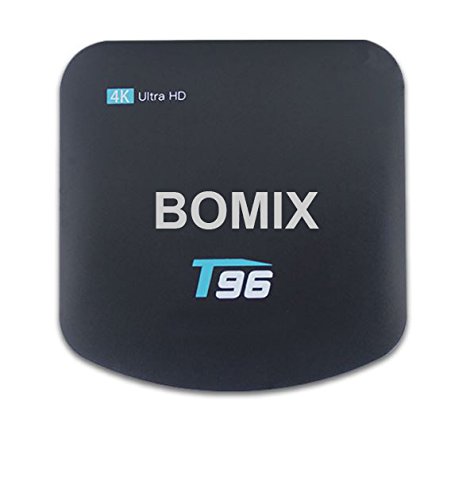 Pros
Relatively smaller than other TV boxes
User-friendly
Comes with a built-in mouse mode
Easy to set up
Fast and stable
Cons
Prolonged use may lead to slow response
Needs to improve on Internet connectivity
Fatmoon Android TV Box T95Z Plus
Can't get enough entertainment from your current TV? No problem because Fatmoon Android TV Box is here for you. No more boring movie nights. You don't even have to put up with limited and uninteresting TV channels because with this product, you get full control of what you watch.
There is a lot of features to love about this device. Firstly, its display comes with 4K technology. To get more specific, the resolution of this product is 4K 60fps display with 4K x 2K output and 10/100/1000Mbps cable network. Jargons aside, it basically means that gaming and TV shows are displayed at its best quality.
Another feature of Fatmoon's Android TV box is it has 2GB DDR3 RAM, giving you continuous and seamless streaming of videos and playing games. The 16GB ROM gives you a lot of space to store your favorite apps and files as well.
With the latest Dual WiFi 2.4G/5G connectivity, this Android TV box can easily connect to any WiFi connection with a speed of up to 750Mbps. It also comes with a 4.0 Bluetooth technology and Amlogic S912 Octa core to accommodate fast and stable computer processes.
Pros
Plays almost all popular video and audio formats
Run by Android 6.0 Operating System
Memory is expandable up to 32GB with the use of a micro SD Card
Supports multiple languages (English, Greek, Norwegian, Chinese, Danish, and others)
Sleek and unique exterior design
Cons
Non-Android users might experience a longer learning curve
Bluetooth may not be compatible with other devices
The Verdict
While these three products receive positive reviews and superb feedback, it is time to know which Android TV box rises above the rest. With all things considered, want to give Dolamee D5 our two thumbs up. Its primary strength is its lighting speed processor.
The only deal-breaker for the Dolamee D5 is its price. If you are a little short in your budget, you might as well consider Fatmoon TV Box. While it might be slower than Dolamee D5, you won't notice a big difference unless you do high-speed gaming and streaming.
To the credit of Bomix TV Box, we believe its main strength is its size. It is super light and durable and, at the same time, it is cheaper than the other two products.
With these in mind, take into consideration your needs, preference, and most importantly, budget when choosing the best 4k android TV box. The ideal choice for you might not be the ideal choice for others. Thus, take some time to consider all the available options before you make a purchase.