If you're really tired of restrictive ecosystem of cable networks and looking to enjoy the freedom of an Android device, Edal T95M is the perfect choice.
You get a number of preinstalled apps like Kodi, Netflix, YouTube and of course, the availability of the Google Play store wherein you can easily find more apps. Keeping its power-packed performance in mind, it's difficult to imagine that Edal T95M is a rather inexpensive device.
Edal T95M 4K is not just another small black box that sits under your TV. There is also a small screen on the front for clock display. People having their first experience with Kodi will not be disappointed at all.
The media streaming works well and the remote control is good for basic functions. You can always add an external keyboard or mouse at a later stage.
You can enjoy the power of Google Play and avoid other complex ecosystems that soon get tiring, especially for the people who are just starting out. Keeping this in mind, let's find out whether Edal T95M is the perfect option for your next TV box.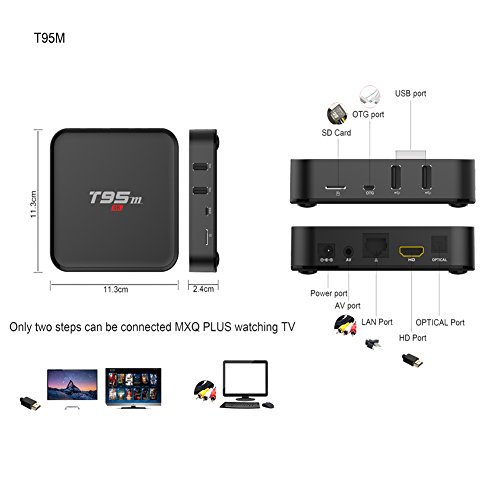 Features
The box comes with Android 6.0 operating system that is perfectly compatible with other Android apps
There are built-in WIFI, LAN, and HDMI ports that support external devices via USB or wireless
The device offers smooth output of 4K and 3D video
1GB DDR3 with an 8GB EMMC flash will never feel inadequate
Primary languages like English/French/Spanish/Italian/German are all supported
Pros
An inexpensive option for the beginners
The operating system is very clean and easy to operate
For its price, flawless 4K video capabilities on offer
You get to enjoy Kodi and other network-owned apps
The USB port supports external devices such as keyboard and mouse
A functional small screen on the front with a clock
Lightening-fast connectivity with zero lag time
Cons
The remote control is not really useful
You need to update the software out of the box
When you start out, it takes more than a while to load the streams
As it is an inexpensive device, the hardware quality is not that great
It doesn't run on a dual band
Summary
To sum up, this is an easy-to-plug-in Android box with an uncomplicated initial setup. A no-fuss device to carry out all your basic operations with ease. This device is all you need for the video, audio, music, games and other tasks. It offers the best way to enjoy the amazing multimedia experience.
The operating system is absolutely clutter-free. The menu browsing speed is fast and the device seems to carry out all the basic functions without breaking a sweat. You can receive all channels with Kodi. For everything else, you have the Google Play store.
The high-speed internet works really well with no drop in video quality. The music lovers can easily stream online radio stations. Connecting the HDMI port on the back of your TV is not too difficult. The TV box comes with a remote that works well in most situations.
However, you would need another keyboard in the near future. The device works fine for images as well. There are easily-accessible apps available for viewing photos. Software updates are mostly automatic and it is not difficult to replace the Android OS with the next version that comes in future.
For such a small device, the responsiveness and the transition between different apps is near perfect. The menus are not slow and even apps like Kodi work really well with the internal specifications on offer.
Edal T95M 4K is not another black box that merges in the background. In fact, the interactive clock display is very useful and functional.
Comparison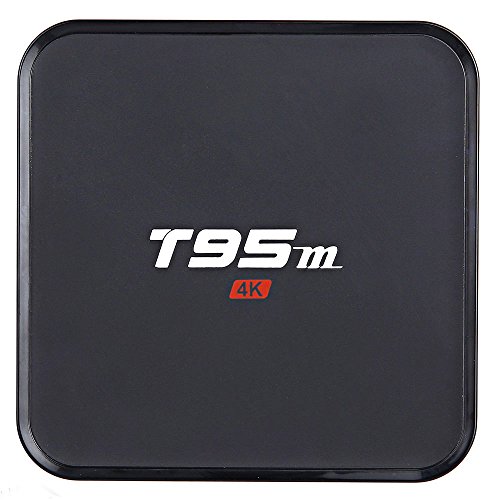 Anyone looking to buy a TV box with the latest version of Android can definitely consider BIGFOX T95M as well. Both Edal T95M 4K and BIGFOX T95M belong in the same line-up of inexpensive yet, valuable Android boxes. In fact, the build quality and the design of BIGFOX T95M is somewhat similar to Amazon five TV.
BIGFOX T95M also comes with a useful preinstalled app called App4TV. App4TV is quite useful and provides hundred percent access to other remote-friendly apps in the ecosystem. BIGFOX T95M also allows Bluetooth connections so you can add any number of compatible devices.
BIGFOX T95M is sturdy, efficient, fast, and easy-to-afford Android TV box. Yet, like most of the boxes in this range, the remote control is cluttered. The device interface is a bit confusing as well. If you compare the two, Edal T95M 4K seems like a slightly more accomplished device than BIGFOX T95M.
Verdict
If you're planning to cut cable and move towards an Android TV without spending a bomb, Edal T95M is the right way to go. You'll never have to worry about the performance as this is a small unit that packs a punch.
The device is preloaded with a fabulous Android operating system and you will absolutely fall in love with the new app environment that you find yourself in.
The installation is fairly simple as well and you can get it up and running in a matter of minutes. The Google Play is preinstalled and you can start enjoying the new environment right away. If you are looking to connect it to a wired Ethernet network, then you won't even need to go into the wireless settings.
The onscreen keyboard can easily be replaced by an external keyboard or a mouse connected through the USB port. For your convenience, the popular media apps are already preinstalled. Apps like Netflix and Kodi work without any problems.
For the existing Android users, you can't get a cheaper product in the market that gives you such high-quality results.
The Edal T95M stands tall among its competitors and once you are in the market for a quality TV box, the device is very difficult to ignore. The Edal T95M is not a higher spec device but it'll surprise you each time with an explosive performance.