Since the internet has debuted back in the late 70's and early 80's, it was becoming more and more evident that spoon-fed content was no longer the name of the future. Currently, users from all around the world can choose different ways of using media. TV channeling is slowly dying, so it's important to stay ahead and invest in something that's future-proof.
A lot of companies are showing an increased interest in Smart TV boxes that are running on Android. It is an operating system that has been developed for people to interact with mobile devices. Android-operated gadgets can do many things, from running video games to streaming UHD videos.
Nvidia is a company that technology-inclined people might have heard of before. For those who didn't, [easyazon_link identifier="B075RXV2VR" locale="US" tag="tvmb-20″]Nvidia[/easyazon_link] is a leading manufacturer in the graphic processing unit (GPU) industry; modeling and shaping the gaming world; and developing new technologies every year.
Nvidia Shield TV Features: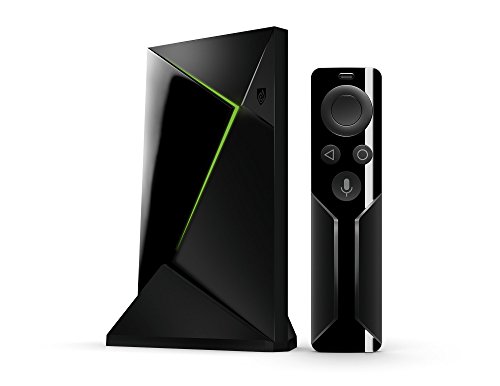 Android 7.0 Nougat Google Cast Operating System
The processor is a Nvidia Tegra X1 – a quad-core processor with 256 GPU units that support the latest API's such as Vulkan and Direct X 12
Nvidia GeForce Now game-streaming feature
HDR, Dolby Atmos and DTS-X Surround support, all via HDMI 2.0 and at a steady 60 frames per second
Dual Band Wifi for super-fast wireless data transfers
Two USB type-A ports
3GB of RAM
Pros:
Very recent version of Android
Supports HDR, Dolby Atmos and DTS-X Surround at 4K resolution running at 60 frames per second
Dual-band WiFi for streaming high-resolution movies, TV shows and games
USB 3.0 ports for super-fast storage
3GB of RAM
Cons:
Marketed towards gamers, which can make it look like a niche product
High-end Android game titles don't run as smooth as expected
Summary
Nvidia has really shaken up the TV Box market with the Shield TV because of its specs. This living room device has a Maxwell architecture GPU, the part of the device that is responsible for processing video data.
As an overview, the previous generation of Maxwell chips (Nvidia is now using Pascal) is known to be VERY power-efficient and very reliable.
That feature allows the Shield TV to stream 4K video at 60 frames per second with a lot of extra features enabled. The Shield TV also supports HDR, which stands for High Dynamic Range, a feature that makes colors look more vivid.
Meaning, colors are darker and have more realistic contrast. Additionally, the Shield TV also supports Dolby Atmos and DTS-X Surround sound while streaming at full resolution.
It's clear that it can perform, but it's also very cleverly designed. For example, the controllers are Google Assistant compatible. Thus, typing is no longer necessary since using voice commands is the way by which the user can interact with the device.
The minimalistic remote has an efficient and detailed design. It has a play, pause and select button and also doubles as a mouse and as a microphone when using Google Assistant.
As similar to any other Android device, it is user-friendly but a bit gaming-oriented. It comes with a dual-shock, lightweight gaming controller that has a firm grip and a powerful battery (60+ hours according to them). Aside from Netflix, Hulu, Amazon and other streaming services, Nvidia offers their own version through GeForce Now.
GeForce now is probably one of the more exciting features that's present on this Smart TV Box. It allows people to get access to a big game library and stream the games through the cloud, without owning the necessary hardware.
For example, a video game that wouldn't normally run on a lower-end PC can be streamed through the GeForce Now app (for resolutions up to 1080p). Also, the player can enjoy a quality gaming experience that's very close to that of a console.
What's even cooler is that to get access to that big library of games, users don't have to buy them. They only need to rent them, as with any other big streaming service that's out there.
True, this might be a far-fetched idea, but it has a potential and is a very innovative way of approaching the gaming market. Users can also stream games from their personal Nvidia GPU computer to the Shield TV.
Lastly, the design might be a bit over-the-top, with very sharp corners and radioactive green lights. But the main idea is that the main audience for the Shield are gamers, which is one of the problems with the product.
That is because a lot of people could enjoy it if its marketing was less specific. Maybe, more useful information of this product will make it more accessible to the uninitiated, allowing everyone to enjoy the best possible quality on the market.
Comparison
The Strongest Media Player by Kukulele is an Android Smart TV box that's around the same range as the Nvidia Shield TV. But can it go head-to-head with it? While the Kukulele Box rocks a very capable octa-core processor, it doesn't:
Support voice search or Google Assistant
Support HDR and Dolby sound
Has access to high-quality, AAA gaming titles
Feature USB 3.0
In addition to its incapabilities, this particular Android Smart TV Box runs on 6.0 Marshmallow, something that's less customizable than Nougat. Likewise, the high number of buttons on both the keyboard and the IR remote controller make it difficult to use and learn. It does have plenty of good features, but it doesn't measure up to Nvidia.
Verdict
The Nvidia Shield TV is clearly something that's going to shape the Android Smart TV box market. The quality build, the high number of features, the attention to detail and the incredible performance that this little device offer is currently unparalleled.
The only real drawback is the somewhat eccentric design and the poor choice of marketing towards gamers. Nonetheless, this is undoubtedly the future of streaming devices.