The Android TV box is a gadget that lets users download software, play games and stream video on their TV. This kind of setup can be described as an advanced kind of TV set top box. It provides consumers with a selection of music, videos, movies, photos, games and also gives them access to social media platforms.
Unlike on a standard television set, you can access the internet through your television with the help of this product. This makes your TV a better entertainment system as you have much more choice of things to watch.
All you need to use an Android TV box is a television that is HDMI-compatible plus an internet connection. One example of this system is the BOMIX 2017 Model Android 6.0 TV Box, which we have reviewed below.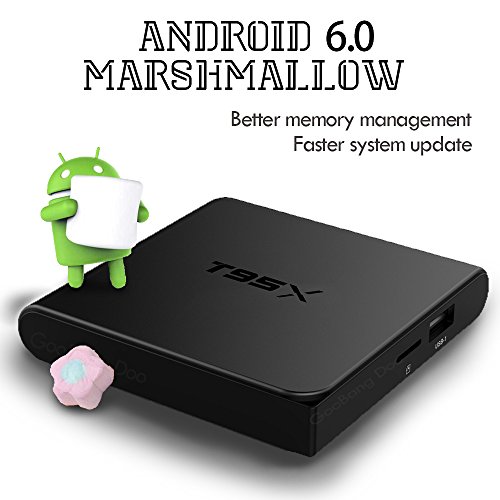 Features of the BOMIX 2017 Model Android 6.0 TV Box
Includes the latest chip Amlogic S905X
Operates using Android 6.0 Marshmallow OS
Can run unlimited movie/video playback, games and music without buffering or freezing
Supports 4K (60hz) playing
Safe adaptor with power magnet to help contain rush current effectively
Operates faster than Amlogic S905
Backs up HDR10 and HLG HDR processing
Makes use of the current EMMC memory for smoother play
Amlogic S905X Quad Core ARM Cortex-A53 CPU up to 2GHz for fast operating speeds and excellent image processing
Built-in HD 2.0b transmitter
Supports HDR10 and HLG HDR processing
Advantages
The BOMIX 2017 Model Android 6.0 TV Box allows users to load the setup with as many applications or games that they wish so they can enjoy activities that they usually do on a desktop computer or smartphone. It is packed with solid features that will help prevent the usual hassles you encounter when watching movies or playing games online like freezing or buffering.
This TV box features Amlogic S905X and uses the Amlogic S905X Quad Core ARM Cortex-A53 CPU, which can reach up to 2GHz. This is considered advanced when it comes to computing and image processing.
It can also accommodate HLG HDR and HDR10 processing which lets users to play games without any issues.
You won't miss any episodes of your favorite shows since it works with any HD TV even those found in dormitories and hotels. You can connect it and play content from lots of different sources.
It has 4K HD streaming capacities as well which provides users with top-quality TV and movie experiences when used with a suitable 4K Ultra-HD television.
It includes lots of applications which are preinstalled for watching videos. One of the best is Sky Live which lets users view streams from Europe's Sky Satellite services.
However, its biggest advantage is the fact that it includes a pre-installed application called Kodi v16.1 Jarvis. This is a popular application for those who love to stream lots of content. It provides all kinds of content to watch.
If you want to make the most out of the device, you should use this TV box with a wireless keyboard. This will save time when searching for content.
In general, this is a nice beginner Android TV box for those who want to try out using a TV box without spending too much. It has a few drawbacks, in particular a lack of power.
However, a more powerful model would cost more, and this product performs well for the price.
Disadvantages
You have to remember that the Kodi is not an entry-level app you can get from the Google Play Store. It comes with APK, which can be a challenge to use for beginners. You have to put in some effort to get the hang of it.
However, there are lots of instruction guides on how to use Kodi and its unlimited add-ons. You may also need to factor in the use of a VPN since there are plenty of ISPs out there who will instantly block streaming from most add-ons.
Another issue is that this TV box is quite slow, so a number of applications will have a tendency to crash. It comes with a handy Clean Memory function on the homepage so users can easily clear the memory cache.
If you do not want a slow Android TV box, remember to clear the memory cache often. Lastly, the device relies heavily on the accessible bandwidth.
Verdict
The BOMIX 2017 Model Android 6.0 TV Box is a product that does deserve your attention if you want to learn all there is to know about operating Android TV boxes. It is packed with built-in applications and despite a few drawbacks, is a decent choice overall.