Technology has changed the way we use our gadgets. For example, these days we can convert our TV into a smart TV with the use of digital boxes. One of them would be the Android TV box, which as the name suggests runs on the Android operating system.
If you are on the lookout for one of these Android boxes, then you might want to consider getting the Kekilo TV Box TX3, which is regarded as one of the best products on the market.
Getting an Android TV Box: Why Buy One?
TV boxes are getting more popular these days as users are finding more uses for technology and gadgets. TV boxes such as an Android one lets users do a vast range of activities including surfing the Internet, streaming videos, downloading applications, playing games as well as editing documents. After all, smart boxes convert a television into a smart TV, and they do work like computers.
One of the most common questions asked is why get an Android box? The answer is simple: Android is a free open source operating system. It is widely popular because it is easy to use even by those who are not very updated with technology. Plus, there are plenty of applications one can use and easily find on the Google Play Store.
The popularity of Android as an operating software is probably the reason why many product makers have decided to make Android TV boxes. And users are having fun with these TV boxes, particularly using them to watch and play games as the boxes are easily connected to the TV with the use of an HDMI cable which then provides a high-definition or HD capability.
These boxes are easy to use as one has the option to choose either a mouse, remote control or keyboard for input.
There are plenty of Android digital boxes on the market these days. They vary in their hardware, size, functions and other features. For example, some have little space for internal hard drives and thus would require the use of either flash drives or micro-SDs for additional storage. Others use 1.4, 2.0 or 3.0 USB connection. These are some of the few differences among these boxes.
If you are keen on getting an Android TV box for your needs, then consider getting the one from Kekilo.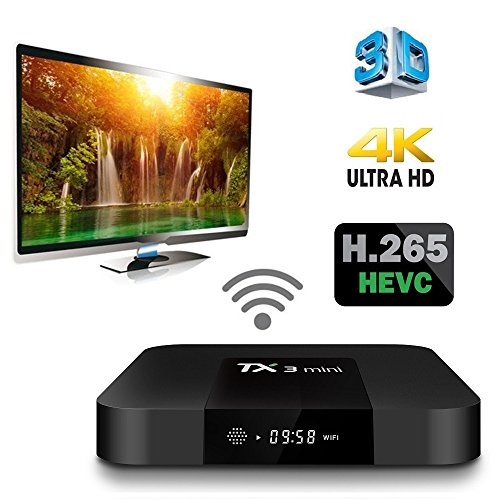 Why Buy the Kekilo TV Box TX3?
Kekilo specializes in the production and sales of Android TV boxes as well as other electronics. One of its Android TV box, the Kekilo TV Box TX3 has the following features:
Hardware:
CPU: Amlogic S905W Quad-Core Cortex-A53@2.0GHz
GPU: Penta-Core Mali-450@750MHz+
SDRAM: 2GB DDR3
FLASH: 16GB NAND FLASH
Power Supply: DC 5V/2A
Power Indicator (LED)

Main Features:
OS: Android 7.1
Support Media format: Avi/Rm/Rmvb/Vob/Ts/Mkv/Mov/WMV/ISO/asf/flv/mpg/MPEG/dat
Support Decoder format:
H.265,4K-HD, HD:HD MPEG1/2/4, AVC/RMVB, Xvid/H.265,4K-HD, HD/DivX3/4/5/6, RealVideo8/9/10
Support Music format: MP3/WMA/AAC/TrueHD/WAV/OGG/AC3/DDP/DTS/FLAC/APE/HD
USB host: 2 High-speed USB 2.0 support U DISK and USB HDD
Support Photo format: HD JPEG/GIF/TIFF/BMP/PNG
Card reader: MMC/SD/SDHC cards
Support Subtitle: SRT/SMI/SUB/SSA/IDX+USB
HDD file system: NTFS/FAT16/FAT32
High Definition video output: SD and HD max. 1920 x 1080 pixel
Wireless: Built-in WiFi
LAN Ethernet: 10/100M, standard RJ-45
HDMI: HDMI 1.4b with CEC
Pros
CPU is Amlogic S905W Quad-Core Cortex-A53@2.0GHz
GPU is Penta-Core Mali-450@750MHz+
OS is Android 7.1
Can support a wide range of photo, video and media formats
The box is customizable even allowing users to link their Google accounts
HDMI-cable ready
Con
Not so great picture quality
Summary
The Kekilo box allows users to watch a wide range of their favorite movies. This box lets users download applications and movies in Google Play Store, watch videos, and play games. Simply put, this box does what exactly a TV box promises to do.
This product boasts of the latest hardware as the manufacturer used Amlogic S905W Quad-Core Cortex-A53@2.0GHz for its CPU as well as Penta-Core Mali-450@750MHz+ for its GPU. These two specifications mean that one is getting the best Quad Core CPU performance for any networking TV box.
It runs on Android 7.1 operation system, and its flash memory is 16 gigabytes or GB while its SDRAM is 2GB.
One can worry-free multi-task, watch videos and movies, or play games with its 4K Ultimate HD video hardware decoding. It has built-in WiFi, allowing users to download movies, games and even application from the web, and even in the Google play store.
The package comes with a mini-tv box, charger, HDMI cable, remote controller and a user manual.
Comparison
This product from Kekilo is at par with some of the best Android TV boxes on the market such as Tracfy Android 7.1.2 X96 Mini TV Box, Aerb 2.4GHz Mini Wireless Keyboard, Android TV Box and the ESHOWEE X96 Mini Android 7.1 TV Box. All of them run on the Amlogic S905W Quad-core and supported by the latest Android operating system 7.1.
All of the above products allows users to do a variety of things at the same time including downloading applications and movies, watching videos and playing games just to name a few.
However, the Kekilo box might slightly pale in comparison to the TX3 Mini Android 7.1 TV BOX mostly because the latter has a small LED screen. But both are powered by the top-of-the-line CPU hardware, Amlogic S905W Quad-core and supported by the latest Android operating system, which might make the absence of an LED screen a negligible feature for many users.
Verdict
If you are on the lookout for an Android TV box that would let you convert your TV into a smart one, then look no further. The Kekilo Android TV box with its latest hardware is a good find. Its hardware is considered as the most professional Quad Core CPU performance for any networking TV on the market these days.
No one can beat its hardware performance, which is essential since a TV box runs like a computer, too. This product works quickly and flawlessly. Plus, it allows users to customize the Android box as well as to link to their respective Google accounts. One can do some multitasking with this device. And because of all its virtues, then this Kekilo TV digital box is already a good buy.