The fast-paced development of modern technology has ushered in several wonders that were only thought of as science fiction a few decades ago. You now have mobile phones that you can do almost anything with and television sets that provide clearer pictures than ever, especially if paired with the best android smart TV box. But what are these smart TV boxes for and how do they work?
Smart TV boxes are similar to cable boxes that you would often find attached to a television set and gives you access to cable channels. Smart TV boxes, on the other hand, connect your standard television set to the wonderful world of the Internet.
With the best android smart TV box, you would be able to stream videos and surf the web without the need of a computer. Most Smart TV box owners would use it to stream shows from Netflix or Hulu.
How Does the Best Android Smart TV Box Work?
Android TV boxes are like mini-CPUs that run on an Android operating system, which means that you can install most mobile applications that you can find in the Google Play Store. Remote controls are used as keypads although it does take quite some time to type sentences if you are going to use it for chatting or researching.
Wireless keyboards can be attached to solve this, which effectively transforms your TV into a computer. A known limitation of Smart TV boxes though is that they do not have big memories like that of real computers which means you have to choose what you install and save.
Here are three Smart TV boxes for you to consider:
Greatever 2018 T98 Pro Android 7.1 TV Box
The Greatever T98 Android TV Box is compatible with the latest Android apps, and its advanced connectivity solutions let you enjoy your favorite shows and programs.
Latest OS and Processor – the Greatever TV Box runs on the Android 7.1, and it also comes with a quad-core Cortex-A53 2.0 GHz processor and a Mali-450 pentacore GPU.
Advanced Connectivity – This TV box comes with a built-in 2.4 GHz WiFi which you can use to download applications and games. The Greatever T98 Android TV Box also comes with a LAN port for wired connections and an HDMI port.
Expandable Memory – this unit comes with a 2G + 16GB internal storage, and it also supports USB and external hard drive connections, allowing you to store more movies and more programs.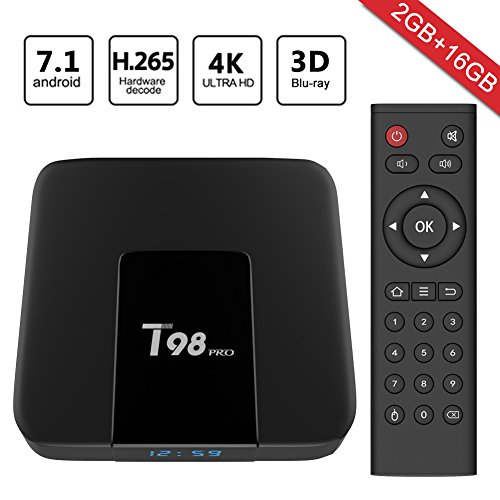 Pros
Setting up the Greatever T98 Android TV Box is quick and easy while installing the applications were just a breeze.
The picture quality of the Greatever T98 Android TV Box is good, and the audio does not become out of sync.
Cons
The built-in WiFi receiver takes too long to pick-up faster networks, and sometimes the network it does get is too slow for video streaming and 4K viewing.
The Greatever T98 Android TV Box comes as it is with no pre-installed apps, which means you have to access the Play store and download everything before you can start watching.
Easytone Android 7.1 2018 Model Smart TV Box
The Easytone Android 7.1 Smart TV Box lets you access and enjoy all the apps and games that you want from the Google Play store with its built-in 2.4Ghz WiFi receiver.
Fast Processing System – this TV box comes with the Rockchip quad core cortex A7 2.0 GHz. It also has a VP9 decoding system that supports almost all file formats.
Updated OS – the Easytone Smart TV box runs using the Android 7.1 Nougat which is the latest version of this popular mobile operating system.
Expanded Memory – this TV box comes with 1GB RAM and an internal memory of 8GB plus an extended capacity of up to 32GB
4K Resolution – The 3D GPU processor provides the graphic support for games and ultra HD movies. This TV box can even deliver 4K resolution when available.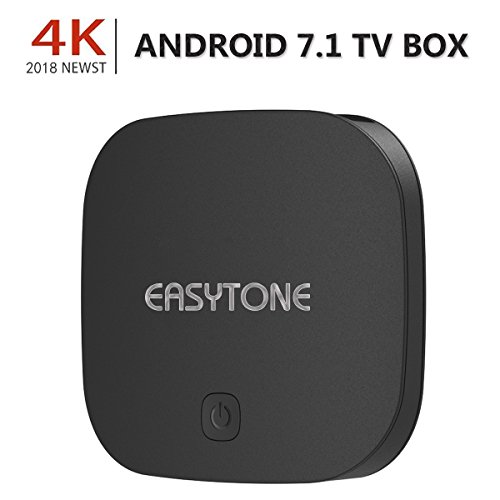 Pros
The Easytone Smart TV box does not take too much space and has a great modern design.
This TV box comes pre-installed with the necessary mobile apps, and it does not have any bloatware that usually comes with other Smart TV boxes.
Cons
The Easytone Smart TV box freezes regularly and often encounters a glitch while playing a show. Although restarting it helps, it is a bit of a hassle as you have to do this every single time it gets an error.
The expanded memory is the largest memory you could get with this TV box, and it will shut down on its own if you plug an external hard drive into it.
Installation can be a hassle as well as there is a high chance of errors occurring as soon as you plug it into the TV.
Dolamee D5 Android 6.0 4K Smart TV Box
The Dolamee D5 Android 6.0 4K Smart TV Box turns a television set into a smart entertainment solution, with a stable OS and its multifunctional media player.
Proven Operating System – the Dolamee D5 Smart TV Box runs on Android 6.0 Marshmallow which is a stable Android OS version, with several bug fixes already installed. It might be slower than the other versions, but it's the most stable one there is.
Large Internal Memory – this Smart TV Box comes with a 2GB RAM and an internal memory of 16GB which is more than enough space to let you enjoy watching your favorite shows and movies.
4K Media Player – the multifunctional media player enables you to play audio and video files of any format, and it can even play videos with 4K HD resolution.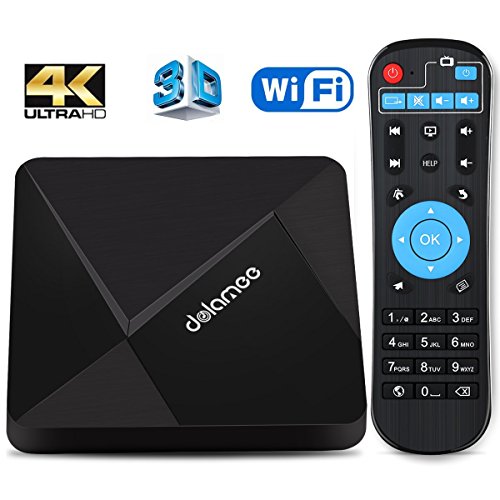 Pros
Dolamee D5 Android 6.0 4K Smart Tv Box can hold a lot of mobile apps and operates faster than most smart boxes.
This Smart TV box comes with everything you might need with ethernet and USB ports for connectivity and storage, as well as an HDMI port for additional display options.
Cons
The Dolamee D5 Android 6.0 4K Smart TV box can be hard to program initially which limits the number of programs you can watch.
This Smart TV box is not that user-friendly, and the remote control does not help at all as it is not intuitive.
This TV box often locks up when you rest it, and it often loses its connection with the server no matter how strong the signal is.
Verdict
Smart TV boxes have almost the same feature and run on the same operating system, but the deciding factors are the additional features, as well as the overall experience that each system can provide. With this, the Greatever T98 Android TV Box is the clear choice with its fast processor and expanded memory, as well as the ability to playback 4K HD resolution videos.
Transitioning from a cable box to a Smart TV box should not be a problem as the interface is just like how Android phones would look like. Different models would have different performance levels, even the way the boxes are set-up affect on your overall experience.